Date: Sunday, April 10th

Start Time: 09:00AM 

Description: Join us for The Danvers 7 Miler presented by Pep Fitness! This race will offer the same course as the Tapleyville 7 Mile Classic created by race director TR Ramsdell. A mix of road & the Danvers Rail Trail, which we guarantee you makes the miles fly by!!! This event will be benefitting three local charities including The Danvers Rail Trail, Friends of the Peabody Institute Library and the Scleroderma Foundation. 
Fee's:
$30 through 2/13
$35 through 3/31
$40 through 4/9
Race Day: $50
***Youth 15 & Under – $30 (no price increase)
Team Category: Own a business? Part of a running club? This is an easy and fun way to recruit your friends. Teams must consist of at least 3+ people. Prizes will be awarded for the largest & fastest team.
Packet Pickup/Race Day Reg: Opens on race day at 7:45AM at Tapley Park, 139 Pine St, Danvers MA

Course: 7 mile road race starting at Tapley Park at 144 Pine Street. The course is a mix of road and the rail trail. (Majority Asphalt till mile 2….then trail for about 1.5 miles…then asphalt till mile 6 🙂)The course is mostly flat, with an immediate incline to start and two nice long descents. There will be two water stops available on the course providing three opportunities for water/Gatorade (mile 1.8, mile 4 and mile 6.5) Walkers, dogs, and strollers are welcomed.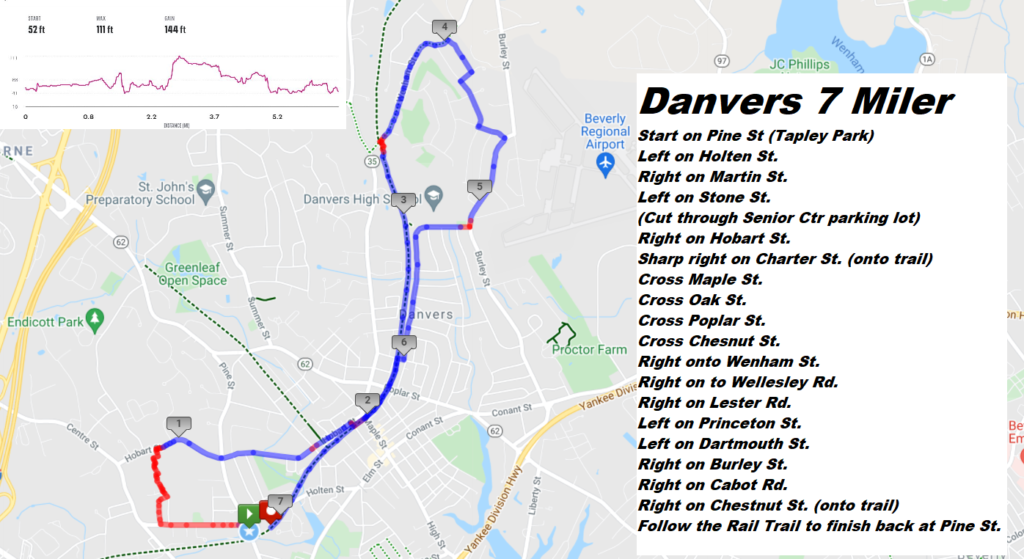 Swag: 1/4-Zip Pullover guaranteed to the first 150 participants who register. Sizes are unisex, XS-2XL.

Awards:
Top 3 Overall Male and Female Sponsored by Asics
Top 3 M/F in each of the following age groups: 15-Under, 16-19, 20-29, 30-39, 40-49, 50-59, 60-69, 70+.
Largest Team (Participation Award)
Fastest Team (Cumulative score for the top 3 fastest runners, 1 must be a female)

Post Race Festivities: A slew of community sponsors will be on site including Enjoy Your Life, Sol Nutrition, Soul Physical Therapy, Townsend Energy, an assortment of food/drink will be available, including, Kate's Real Bars and more. Hot and iced coffee will be available for participants provided by our friends at Kaffmandu Coffee House & entertainment provided by Evolvement Radio.
Parking: Tapley Park, two parking lots that abut the Rail Trail, on street parking on Adams Street & overflow parking at 75 Sylvan Street (commercial parking, closest to corner of Adams Street/Sylvan St).

Beneficiaries: A portion of proceeds will be allocated to a few different charitable entities. The Danvers Rail Trail, Friends of the Peabody Institute Library and the Scleroderma Foundation.

Weather: This event will take place rain or shine.

Event Contact: High5EM | 978-594-7050 | info@high5em.com